Meet the Team
Our team is dedicated to helping you leverage the power of the waterjet cutting process. To get the results you desire, we are here to guide you through every step of the process. We are available to answer your questions so that the end product exceeds your expectations.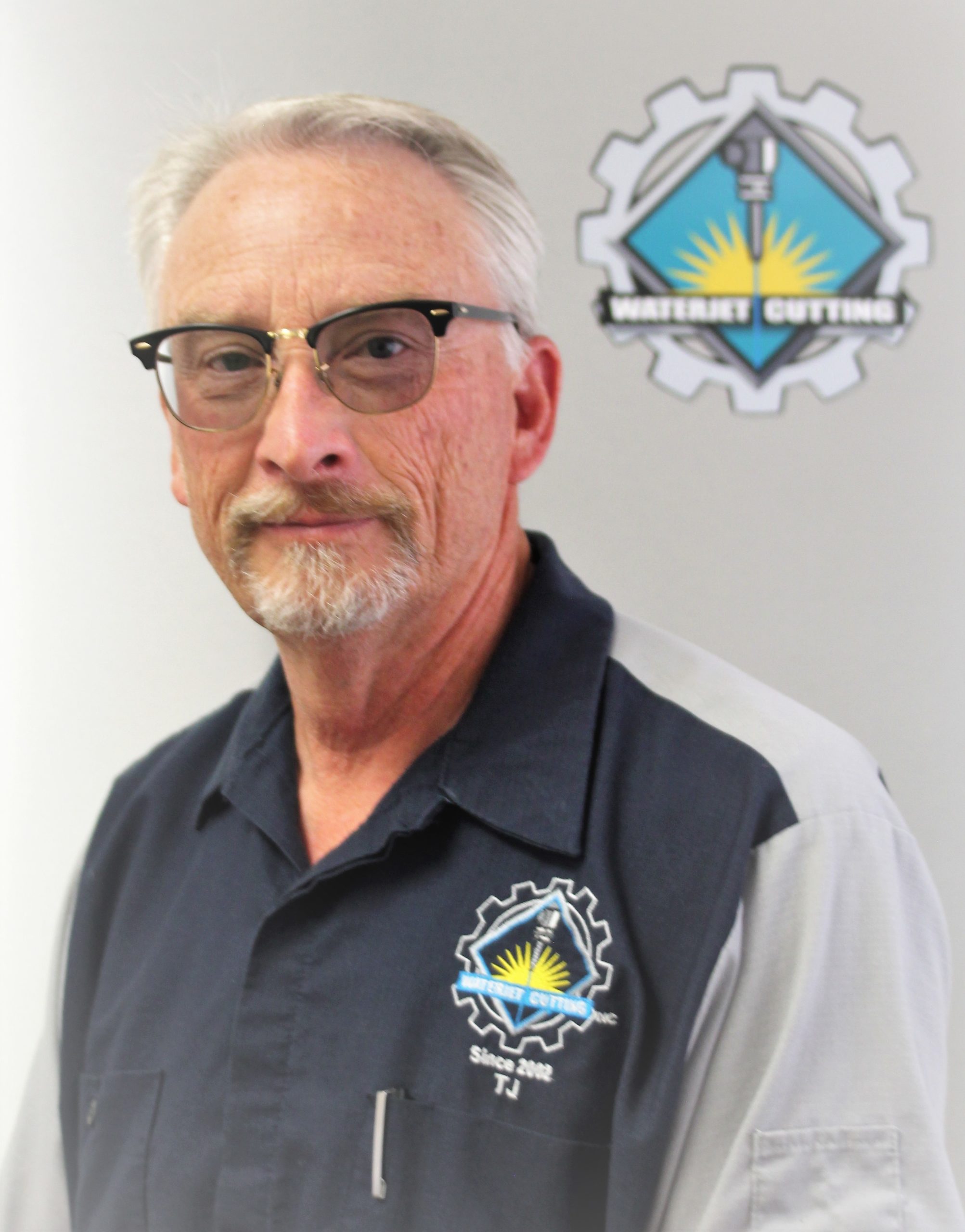 TJ Maloy - Owner
TJ has 41 years of construction, construction management and metal fabrication. TJ enjoys getting to know his customers and takes special pride in meeting and exceeding their needs. Any questions regarding drawings, bids/quotes and general waterjet cutting questions can be directed to TJ.
Lorna Kerkes – Business Manager
Lorna has been with Waterjet since 2006. She formerly held the position as Office Manager but is now on the fast track to retirement, working part-time mentoring the office staff. Lorna has over 25 years of experience in the accounting field working for architects, banks and engineers. She continues to keep TJ out of trouble and on track. In her off time, Lorna loves gardening, old cars and traveling with her husband.
Michael Austin – Production Manager
Michael joined the team in 2008 as an operator/programmer. He quickly mastered the operations aspect of waterjet cutting and is now Production Manager for Waterjet Cutting Inc. Michael also acts as the primary customer liaison. Michael has 18 years of machine shop experience in prototyping and design. He is proficient in maintaining and repairing pumps, equipment, computers, etc. Michael is an avid computer nerd and tech junkie.
Debra Marquez – Office Manager
Debra joined the Waterjet staff in July 2014. She has 23 years of experience in the accounting field and has worked in the manufacturing sector and home care services. Debra currently handles all aspects of the front office including A/R, A/P, Payroll and all correspondence. She also keeps TJ on track and finds all the lost paperwork on his desk. Debra is a talented artist and loves to have a glass of wine and paint in her spare time.
Sheri Maloy – Owner
Sheri has 37 years of experience in human resources in the electric and gas industry. She brings her exceptional customer service and organizational skills to Waterjet. In her spare time, Sheri enjoys gardening and traveling. She has 37 years of experience in keeping TJ on track and has relinquished that responsibility to Lorna and Debra.
Alex Herrera – Waterjet Operator/Programmer
Alex started working at Waterjet Cutting in 2008 while still a high school student at West Mesa High School. Alex has shown a tremendous ability and now works with customers, is part of the job quoting process, and programs jobs using his expertise with both AutoCAD and Solidworks programs. He also assists with the maintenance of the machines. He is continuing his education at UNM working toward his engineering degree. In his free time he enjoys riding dirt bikes and shooting firearms.
Steven Pruitt – Waterjet Operator
Steven joined Waterjet Cutting as an operator in October 2014. He has an extensive background in auto and motorcycle mechanics. Steven's passions include motorcycles and motorcycle racing.
Shawn Maloy – Facility Maintenance
Shawn has eight years of experience in heavy, civil construction working in Aspen, Vail, Seattle and most recently working on Alaska's North Slope. Shawn currently performs general facility maintenance for Waterjet. In his spare time, Shawn enjoys racing his sand drag jeep and hunting.
Joshua Evans – Shipping and Receiving
Joshua joined Waterjet Cutting in 2015. Josh works in shipping and receiving, he also does facility maintenance and is a backup waterjet operator. He describes himself as a computer and mechanical geek and spends his spare time restoring old Japanese sports cars and riding motorcycles. His current project is a 1970 VW Beetle.
Cheryl Dycus – Administrative Assistant
Cheryl lived in Washington State and worked in the aerospace industry before joining Waterjet Cutting in 2005. She worked in the shop and then advanced to shop manager. She moved with her husband to South Carolina in 2011 and in 2017 returned to New Mexico and Waterjet Cutting Inc. as an administrative assistant in the office. She loves working for us!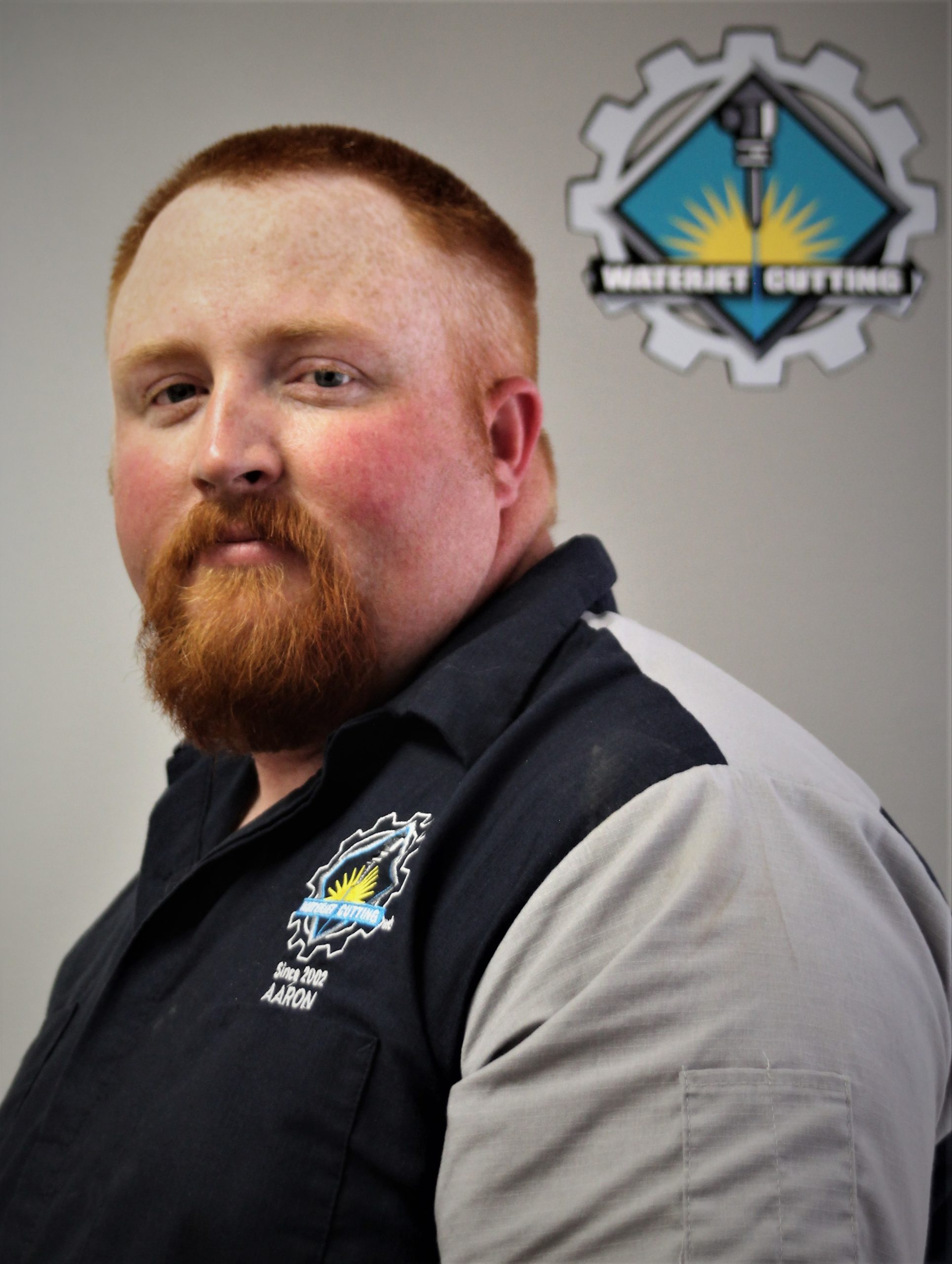 Aaron Maloy – Social Media Consultant
Aaron is our social media consultant. He takes care of the company's social media marketing. You can find us on Facebook and Instagram by searching for Waterjet Cutting Inc. Aaron has been with Waterjet Cutting since the beginning and has truly enjoyed seeing the growth of the company since its humble start-up in 2002. He is a devoted father and husband and enjoys barbecuing, automobile racing, baseball, and spending any free time with family.