Meet the Team
Our team is dedicated to helping you leverage the power of the waterjet cutting process. To get the results you desire, we are here to guide you through every step of the process. We are available to answer your questions so that the end product exceeds your expectations.
TJ Maloy - Owner
TJ has 44 years of experience in construction, construction management and metal fabrication. TJ enjoys getting to know his customers and takes special pride in meeting and exceeding their needs. Any questions regarding drawings, bids/quotes and general waterjet cutting questions can be directed to TJ.
Sheri Maloy – Owner
Sheri has 38 years of experience in human resources in the electric and gas industry. She brings her exceptional customer service and organizational skills to Waterjet. In her spare time, Sheri enjoys gardening and traveling.
Debra Marquez – Business Manager
Debra joined the Waterjet staff in July of 2014. She has 28 years of experience in the accounting field and has worked in the manufacturing sector and home care services. Debra currently handles all aspects of the front office including, A/R, A/P, Payroll and all correspondence. She also keeps TJ on track and finds all the lost paperwork on his desk. Debra is a talented artist and loves to have a glass of wine and paint in her spare time.
Alex Herrera – Production Manager
Alex started working at Waterjet Cutting in 2008 while still a high school student at West Mesa. Alex has shown tremendous ability and now works with customers, is part of the job quoting process, and programs jobs using his expertise with both AutoCAD and Solidworks programs. Alex is also proficient in maintaining and repairing the machines. In his free time, he enjoys riding dirt bikes, shooting firearms, camping, and boating.
Steven Pruitt – Shop Foreman
Steven joined Waterjet Cutting as an operator in October of 2014. He has an extensive background in auto and motorcycle mechanics. Steven is the go-to guy for maintenance and repair of machines, forklifts and just about anything that moves. Steven's passions include motorcycles, drift car racing and his adorable 1 year old daughter.
Adrian Quezada-Castro – Waterjet Operator and Shipping/Receiving
Adrian started part-time at Waterjet Cutting Inc. while he was still a senior at Highland High School and involved in the Dual Credit Program at CNM in the Welding Program. He is full-time now and performs many jobs including waterjet operator, welder and shipping/receiving.
Adrian has a love of learning and is always eager to take on new tasks. In his spare time, he enjoys hiking, watching football and spending time with his family.
Vitor Lhorca – Waterjet Operator
Vitor moved from Massachusetts to Albuquerque in 2009. He has worked in landscaping for most of his adult life, most recently in landscape management. He is happily married and in his free time, he enjoys golf, video games, and is an avid New England Patriots, Boston Red Sox and Boston Celtics fan. Victor joined Waterjet Cutting in January 2021.
Rachel Salas – Administrative Assistant
Rachel joined Waterjet in January 2021. She graduated from UNM in May 2021 with a BA in Business Administration with dual concentration in HR and Organizational Leadership. Rachel quickly gets the quotes out to our customers and it is her friendly and welcoming voice you will hear whether you call on the phone or walk through our front door. When Rachel isn't at Waterjet Cutting, you might see her at Albuquerque Dragway where she has practically grown up and started racing in a Junior Dragster.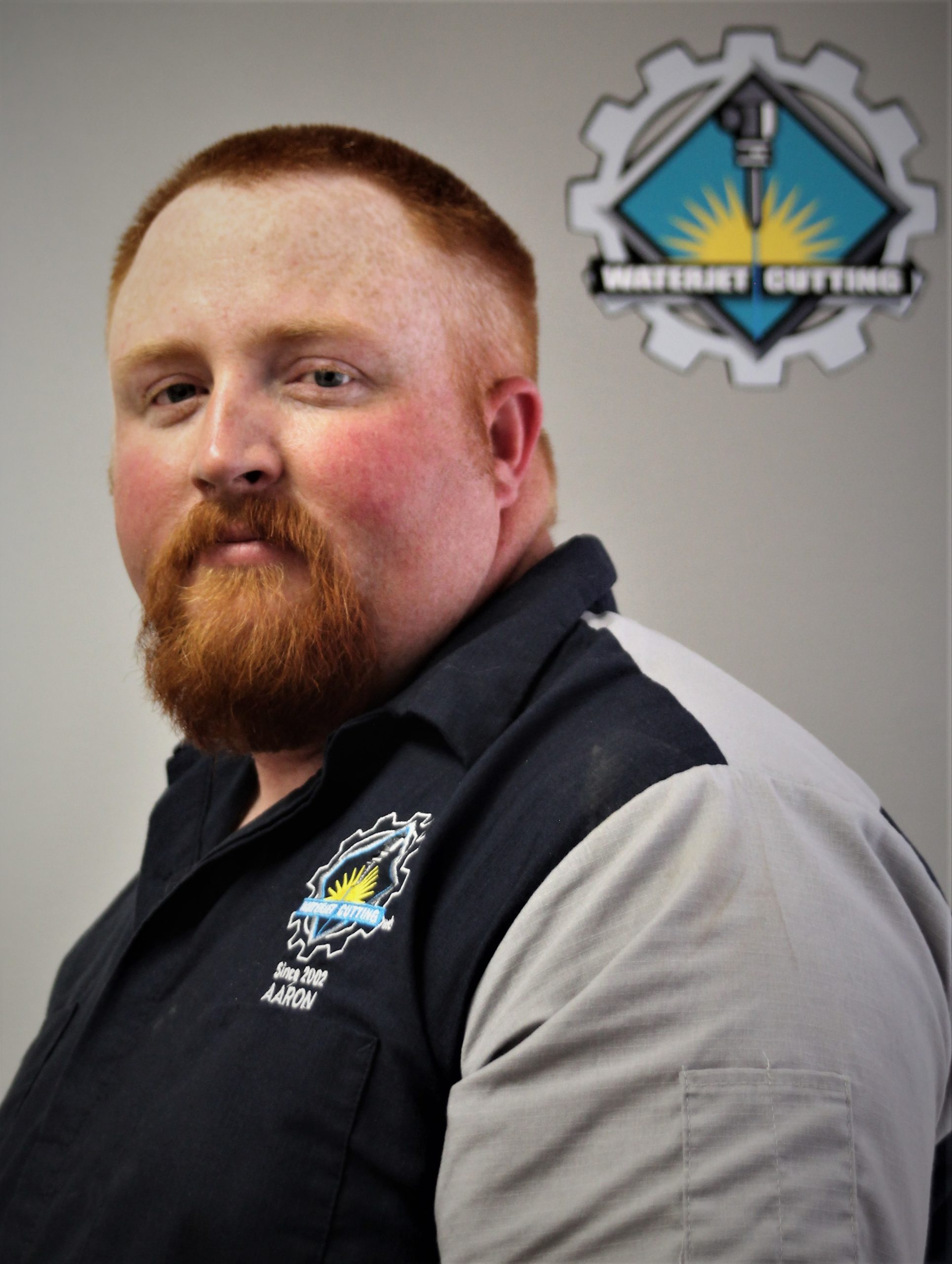 Aaron Maloy – Social Media Consultant
Aaron is our social media consultant. He takes care of the company's social media marketing. You can find us on Facebook and Instagram by searching for Waterjet Cutting Inc. Aaron has been with Waterjet Cutting since the beginning and has truly enjoyed seeing the growth of the company since its humble start-up in 2002. He is a devoted father and husband and enjoys barbecuing, automobile racing, baseball, and spending any free time with family.